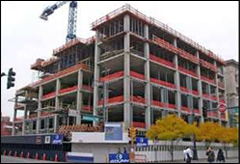 When it comes to a project that you've invested so much time, money and effort into we're certain you'll want its final presentation to represent the Quality and Reputation you've worked so hard to establish. You can always count on Diversified for the service that will always speak for itself.
Most importantly, having a provider with the experience and expertise in construction cleanup and with the ability to customize our cleaning program to meet your deadlines is an important factor that can save you valuable time and money.
Diversified also offers professional General or Skilled Laborers to General Contractors that may require services associated with any project.
Here are a few projects that have benefited from the Quality Services provided by Diversified Incorporated!:
Music City Center (New Nashville Convention Center)
Middle TN State University
Vanderbilt Doctors Office Tower
Nashville International Airport
Vanderbilt 100 Oaks Development
Music City Central (New Bus Terminal) Metro Transit Authority
Vanderbilt Medical Research Center – IV
Diversified has a great reputation and track record with several construction companies mainly because of our ability to meet deadlines and provide on-site supervision to assist the superintendent with any issue that may occur.
We understand that our success on each project is directly related to our dedication and the quality of our work and we look forward to exceeding your expectations!